Panama wastewater treatment plant (Panama)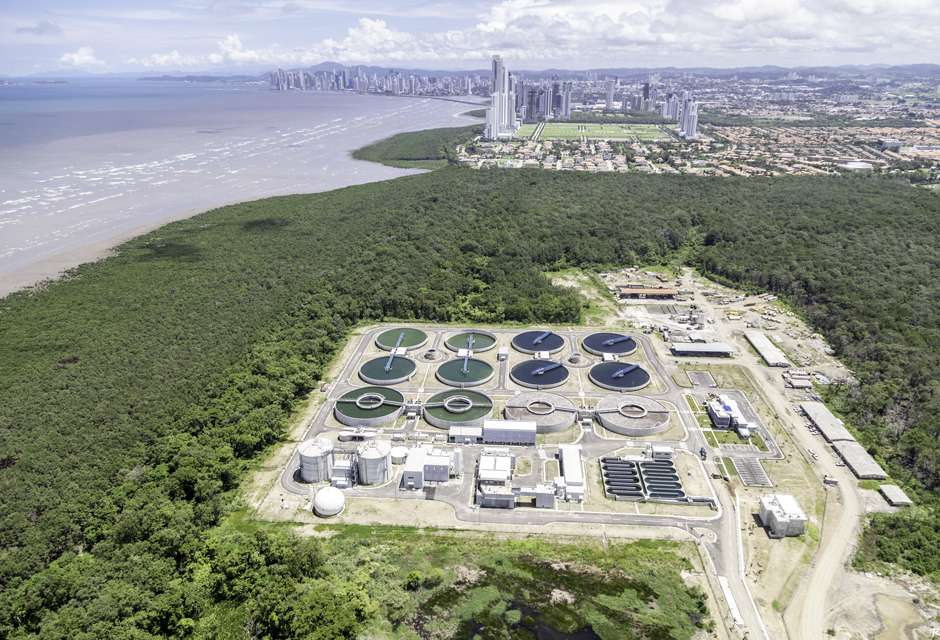 In September 2009, SUEZ signed a contract with the Panama's Ministry of Heath to design, build and operate for four years the first urban wastewater treatment plant for the capital city, in Consortium with Odebrecht, one of Brazil's largest construction companies. The project was part of an ambitious environmental protection and wastewater treatment program launched in Panama at the turn of the millennium which also includes plans for, among others, constructing waste water collectors, pumping stations and connecting sewers.
The plant is aimed at cleaning up the Bay of Panama by treating the effluent before it is released into the environment. With a capacity of 238,000 m3/day, the plant treats effluent from one million of the city's inhabitants. It includes the facilities for biological treatment and sludge digestion, while streamlining energy costs by implementing cogeneration and heat recovery systems.
Located in the seaside mangrove swap and soon surrounded by the city, the plant has been designed to blend seamlessly into the environment.
water treatment line
Pretreatment

4 water lines
Fine screening (6 mm separation) (4 units)
1 grease concentrator system
1 mechanical detritus press system
1 mechanical sand classifier separator
Biological treatment

Nitrification-Denitrification (N-DN) and phosphorus removal
4 aeration tanks – circular form and piston type (45,000 m3), Ø47 m
Secondary settling

8 circular clarifiers of Ø43 m with scraper & suction sludge bridges (degremont® technology)
2 contact chambers for chlorination (gas evaporation).
Discharge of the treated water in to a Modular Distribution Chamber (MDC) to the river. The modularity concept of the MDC will allow the construction of the future extensions (next phases planned in 2025 and 2035) without any interruption
Sludge treatment

Sludge biological pre-thickening on 2 gravity thickeners (Ø 9 m).
3 gravity belt thickeners with polymer dosing.
Anaerobic digestion on 2 digesters of 5000 m3 each with Cannon mixers (degremont® technology).
Sludge dewatering (2 + 1) centrifuges and quicklime dosing.
Biogas production

Flexible biogas holder (1,500 m3), dewatering and desulphurization systems for biogas and reuse in cogeneration (700 kW)
Biogas from the sludge produces 100% of the electricity needed for the sludge zone (buildings and digesters), representing 18% of the plant's total energy needs in nominal conditions (load and flow).
odour control solutions adapted to each area
AzurairTM C technology (chemically scrubbing foul air in the towers):

1 AzurairTMC for the pumping stations,
1 AzurairTMC for the pretreatment and sludge area (with 2 towers in series: acid and basic).
AzurairTM A technology (adsorption on activated carbon):

1 AzurairTM A for the Modular Distribution Chamber.
Bookmark tool
Click on the bookmark tool, highlight the last read paragraph to continue your reading later