Al Dur seawater reverse osmosis desalination plant (Bahrain)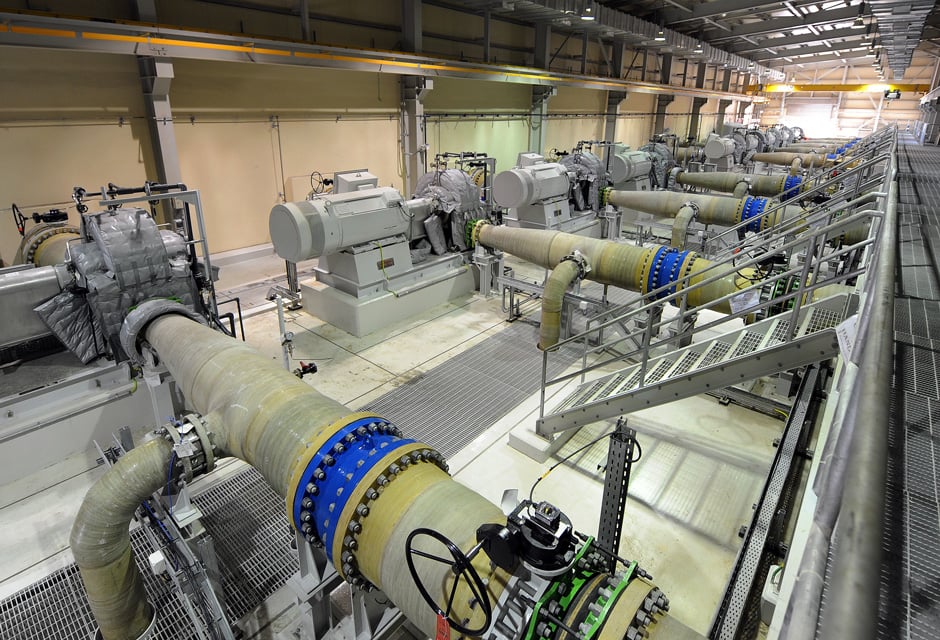 Located in the South-West Coast of the Kingdom of Bahrain, Al Dur seawater reverse osmosis desalination plant has been designed and built by SUEZ, sub-contractor of Hyundai Heavy Industries Korea (HHI), in charge of Engineering, Procurement and Construction (EPC) of the plant.
Al Dur desalination plant is part of larger BOO project contracted by Al Dur Power and Water Company (ADPWC) to Engie/GIC Consortium, combining electricity production (gas plant generating 1,234 MW) and desalinated water production.
With a daily capacity of 218,000 m3 the seawater desalination plant delivers high quality potable water and satisfies the high requirements in terms of pre and post treatment taking into account the quality of Persian Gulf waters (high concentration of organic materials and red tides due to algae bloom). The Al Dur pretreatment was conceived to manage such situation and maintain a low index of clogging to preserve the reverse osmosis membranes.

design
pretreatment :
The pretreatment is divided in 2 independent lines, housing each the following facilities and equipment:
Chemical dosing system
›7 Seadaf™ high rate units (flocculation/flotation), which is the most suitable and proven technology to face the treat of potential algal blooms and the high fouling potential of the Gulf seawater
›22 pressurised dual-media filters
›Polishing step consisting 12 cartridge filters with 360 cartridges of a 5-micron each.
›Chemical dosing system
post-treatment :
remineralisation (2 independent lines)
reverse osmosis :
Double pass reverse osmosis membrane treatment in order to reduce the concentration in boron concentration to 1 mg/l :
›1st pass: 26 trains with a recovery rate of 42%. The Toray Membranes and the Pelton turbines as energy recovery device were selected.
›2nd pass: 12 two-stage trains and a recovery rate of 90% (Toray Membranes)
sludge treatment :
›Thickening on 2 Densadeg™
›Dewatering by centrifugation (2 centrifuges)
Bookmark tool
Click on the bookmark tool, highlight the last read paragraph to continue your reading later