low temperature sludge drying system – Evaporis™ LT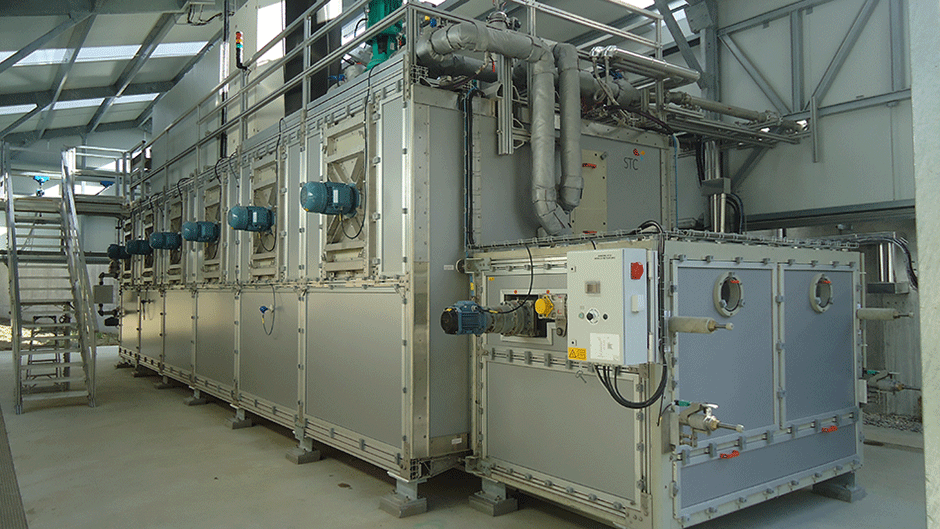 Energy recovery from on-site low-calorie processes provides the dryer's energy supply.
The EvaporisTM LT,low temperature sludge drying system, works on the principle of continued drying by hot air convection (65/80°) in a closed tunnel. The workshop accepts urban wastewater dewatered sludge, physical-chemical, biological or mixed (with or without tertiary treatment) as industrial wastewater sludge. It applies for dewatered sludge with minimum dryness around 25%.

Evaporis™ LT uses the dryer of the Spanish company STC (Sistemas de Transferencia de Calor) specializing in the thermal drying of sludge at low temperatures. STC is a subsidiary of SUEZ.
key figures
Modular and scalable design available from 30,000

PE

Only 90°C required temperature for the heat source
among references
Saint-Marcellin (France) – 35,000

PE
profit
Reduces consumption of primary energy using lost heats that haven't been use on the treatment plant (cogeneration)
Quick start-up and automated process
Low maintenance
Dryers not concerned by ATEX regulations
Modular system
Bookmark tool
Click on the bookmark tool, highlight the last read paragraph to continue your reading later