pressurized in/out ultrafiltration modules water treatment system – aquasource® M, L, XS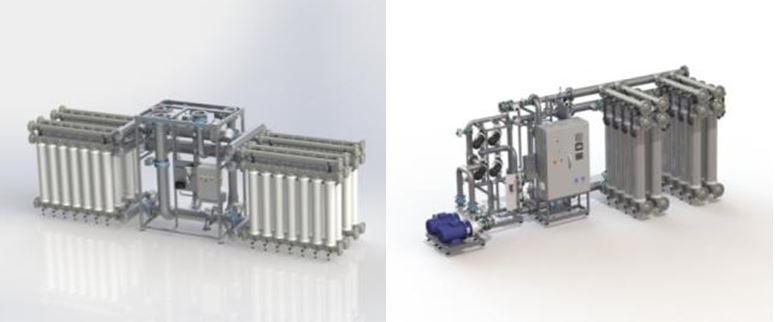 water treatment system by pressurized in/out ultrafiltration modules – aquasource® M and aquasource® L
It can be installed in DIRECT or in COUPLING on clear water (drill-holes, sources, karsts, lakes) with turbidity peak up to 1000 NTU or POLISHING on degraded water (rivers) turbidity peak up to 2000 NTU.
Possibility of direct filtration on clarified water (short line without sans filtration) - must be studied on a case-by-case basis.
New ultrafiltration membrane ALTEONTM I-XL60 made of PolyEthersulphone (multi-channel In/out Mechanical type). Fibers are assembled by 7, giving to the membrane a higher mechanical resistance than individual fibers.
aquasource® L
> 20,000 m3/d
Adaptable system : tailor made according to the client's needs
aquasource® M
From 300 to 20,000 m3/d
Plug and play concept; ready to operate, compact and autonomous
aquasource® XS
< 300 m3/d
equiped, compact, evolving and connected system
key figures
Guaranteed turbidity < 0.1

NTU

(standard 0.5 NTU)
Division by 3 of chlorine in the network
Energy consumption < 60 Wh/m3
Filter performance 1000 times higher than with the sand filter
Water losses < 5%
among our references
Lausanne (Switzerland) – 40,000 m3/d – 9 blocks of 44 modules
Angers (France) – 120,000 m3/d – 16 blocks of 24 modules
Gemenos (France) – 5,000 m3/d - 2 aquasource® M, 20 modules
profit
Ultra quality : Perfectly clear water , less chlorine in the network, water taste restored
Safety : Physical barrier, protected and hygienized network , residual chlorine in all network (persistence)
Heath : Less chloramines and

THM

, no reagents nor polymer, physical removal of pathogens,
Implementation :civil structure simplified, rapid implementation, hazard control during the construction phase.
Bookmark tool
Click on the bookmark tool, highlight the last read paragraph to continue your reading later