sludge recirculation settler – Turbocirculator®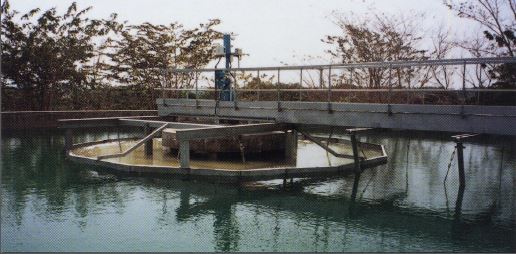 Scraper settling tank with internal sludge recirculation by low-speed turbine
The Turbocirculator® is a flocculator- settler. It can be used as pre-settler. Due to the scraping, this product is mainly used in case of heavily loaded water.
The Turbocirculator® is characterized by the integration of the 3 following zones, without necessity of external pumping :
Central zone = Recirculation zone
Peripheral zone = Settling zone
Bottom = Sludge collection
The sludge returns by scraping near the raw water inlet and can be partially recirculated for flocculation improvement (sludge contact).

among our references
La Florida (Chile) – 345,000 m3/d (pre-settling)
Sonia Vihar (India) – 635,000 m3/d (pre-settling)
Al Rusafa (Iraq) – 910,000 m3/d (settling)
profit
Simplicity
Reliability
Easy maintenance: mechanical scraper avoid the shutdown for cleaning
Bookmark tool
Click on the bookmark tool, highlight the last read paragraph to continue your reading later