diametral suction - sludge recovery – SD clarifier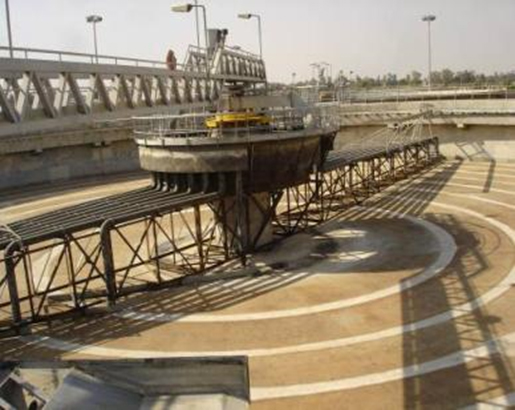 Clarification by central drive with diametral sludge collection.
The SG circular clarifier is a technology uses in secondary clarification of wastewater. The SG clarifier is equipped with a diametral suction system for sludge recovery and is characterized by a fixed access bridge with a central drive mechanism for the sludge scraping and suction system.
The activated sludge flows into the center column via a feed pipe laid under the invert and, through upper ports in the column, to a centre baffle designed to evenly distribute the flow into the clarifier.
The clarified water is collected by a peripheral weir. The sludge is removed from the whole surface of clarifier tank by mobile suction pipes arranged along the diameter of the bridge, and discharged by hydrostatic pressure into the two collection tanks.
Then it is drawn off by a mobile central negative pressure siphon, and it flows by gravity into a pipe laid under the invert.
key figure
Clarifier diameter up to 65 m
among references
La Farfana (Santiago de Chile, Chile) 700,000 m3/d
Gabal el Asfar (Cairo, Egypt) 500,000 m3/d
profit
More economical clarifier due to its circular shape and flat bottom design
Efficient sludge recovery system well suited to large structures: due to a larger number of suction tubes distributed across the full diameter
Best adapted to large wastewater treatment plant
Bookmark tool
Click on the bookmark tool, highlight the last read paragraph to continue your reading later